The

Web site by Marshall Greer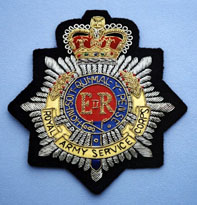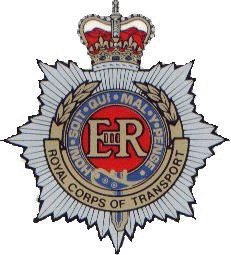 ---
Welcome to the ANTAR Web site, I have dedicated this site to Tank Transporting, It has been have given the name The ANTAR as this was one of the types of Tank Transporters I crewed, and to many people all Tank transporters are called Antars. I must thank the many visitors to the web site and thank those who have sent me photographs, some of which I have put on the web site and have many, many more to be uploaded. There is a feedback form, on page 4, for you to pass on your welcome comments about the web site, thank you. This Update 26 August 2013.
Click here for Page 2, Antars & Scammell Commanders, working.
Click here for Page 3, More Scammel Commanders & sent in photos.
Click here for Page 4, Feedback Form, Antar Loads, NATO tank transporters, Antars working in their civilian guise, or being shown at truck fests, plus the Oshkosh.
The picture below was taken at 7Regt RCT base in Sennelager W Germany, showing the line up on the main square.

This is a copy of the framed photograph that hung on the wall of the Officer Commandings office at Bulford when 414 Tk Tptr Tp Rct, later 414 TK Tptr Unit RCT, was stationed there following the disbandment of 19 Tk Tptr then 150 Sqns RCT.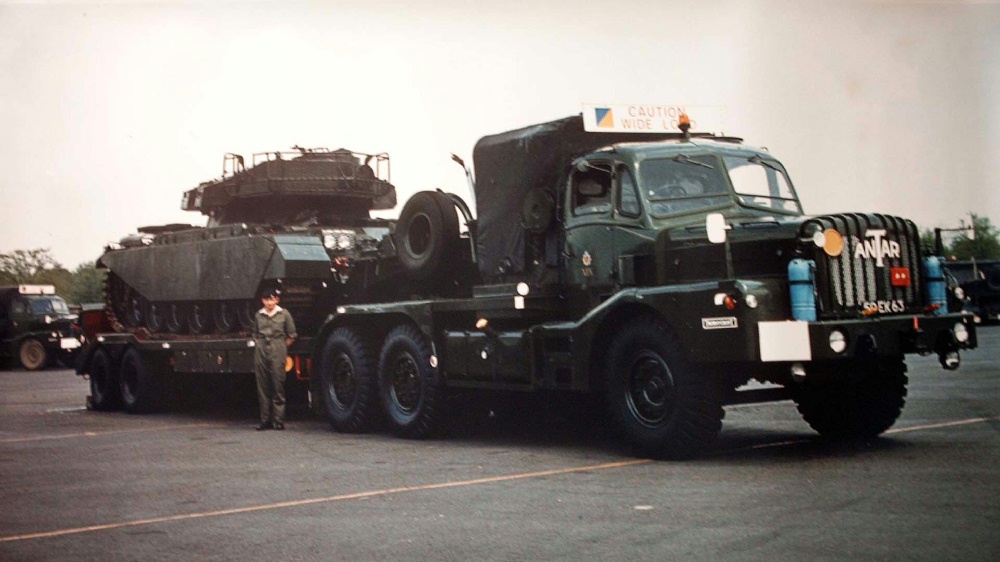 I believe the picture below was taken on a Larzac run in the south of France.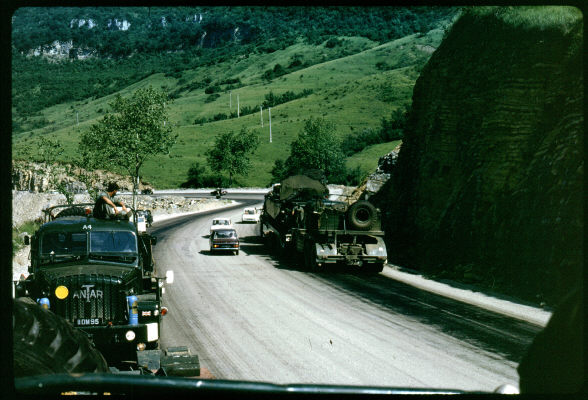 The photo below shows Me on a BSA B40 350cc motorcycle, and An Antar Mk3, named Arrabella (Atp 3 Tk Tptr Sqn RCT ). Engine Rolls Royce C8 SFL, 8 Cylinder Diesel, Supercharged to produce 333 bhp, at 2100rpm. Max speed 35mph 2.25mpg max all up weight 107ton, plus one of Me with a nice Antar Mk2 I saw at The School of Electrical And Mechanical Engineers [SEME] Bordon in May 2002, The engine is now a Rolls Royce (Perkins) Eagle Diesel The Trailer is an ex Pickfords Low loader with rear wheel steering, Also a nice Antar Mark 1 alongside a Civilian USA Truck Co White.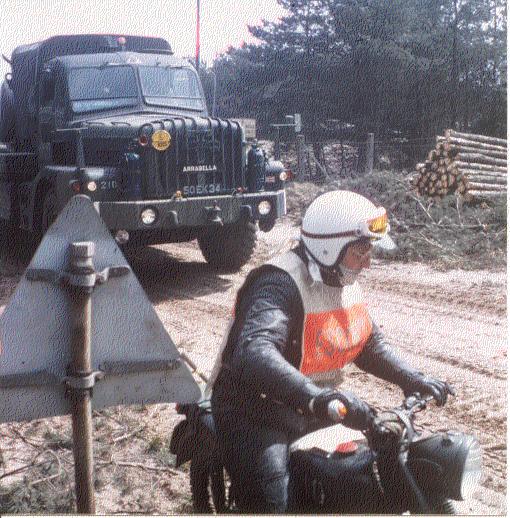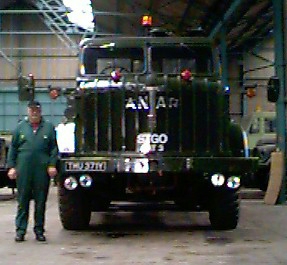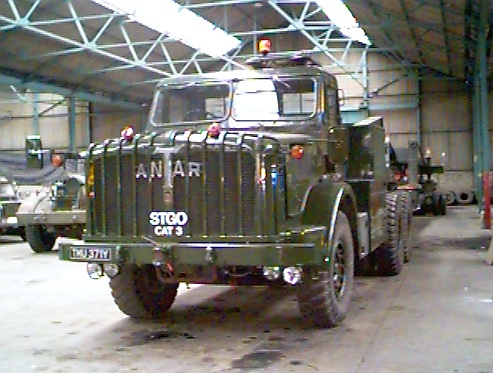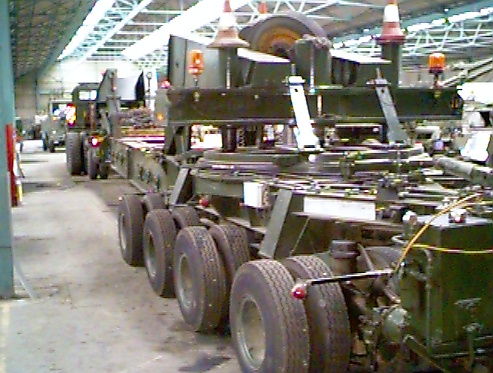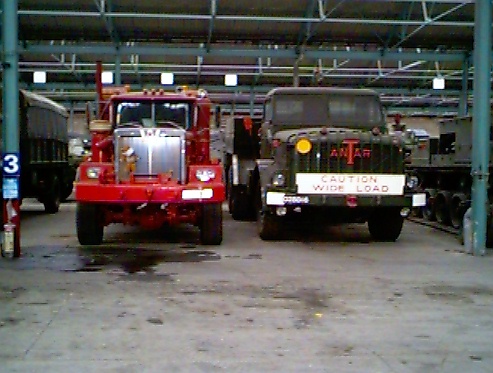 Below are some Shots also at Bordon, this time of a Second world war Scammell Pioneer Prime Mover.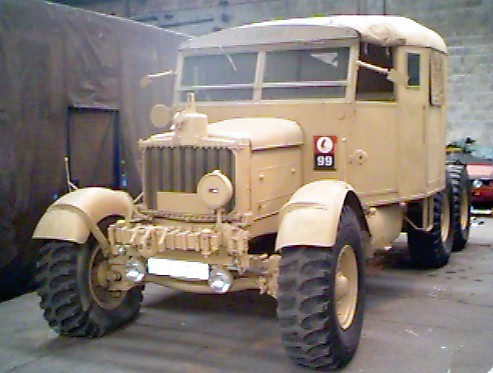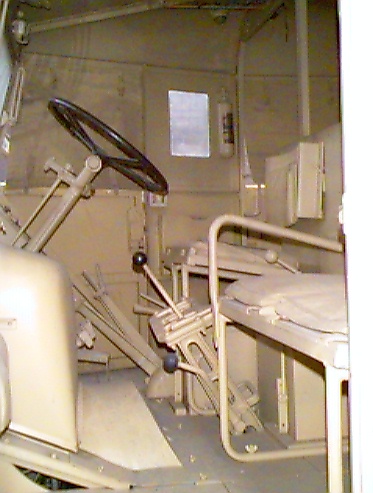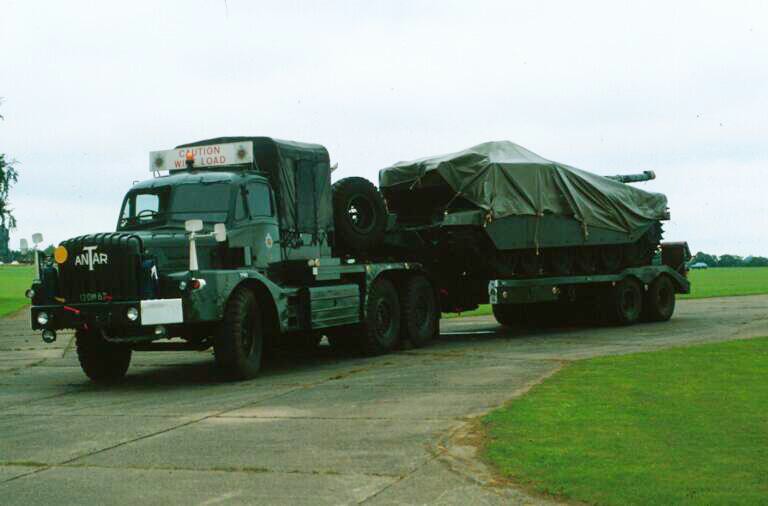 Above: 414 Tk Tptr Unit RCT's KAPE Antar, Photo below. is of an Antar Tasker 50 ton with Chieftain Mbt which unfortunately slid onto its side. in Denmark (Photo courtesy of Keith Davis)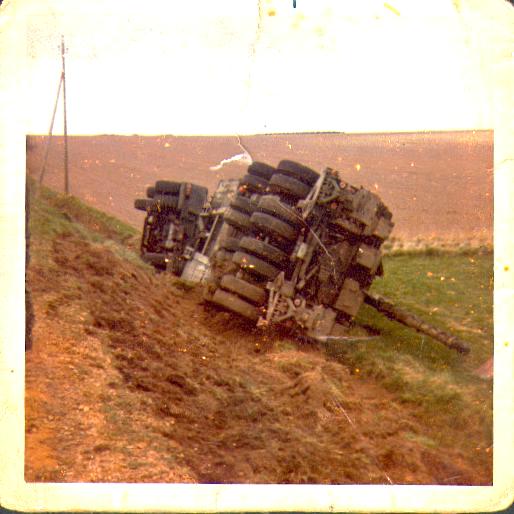 Heres another oop's it went wrong: 16 Sqn of Fallinbostel slipped up on Soltau ranges. This is followed a selection sent in by site visitors.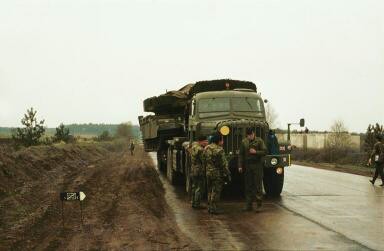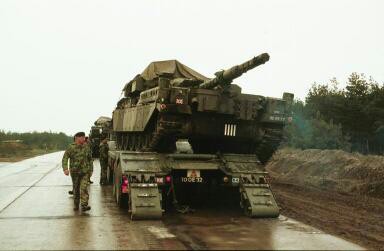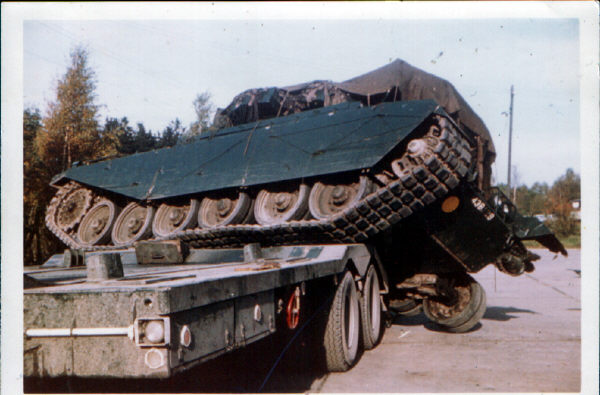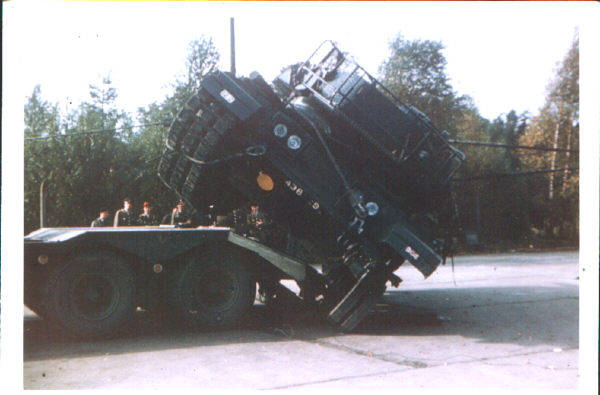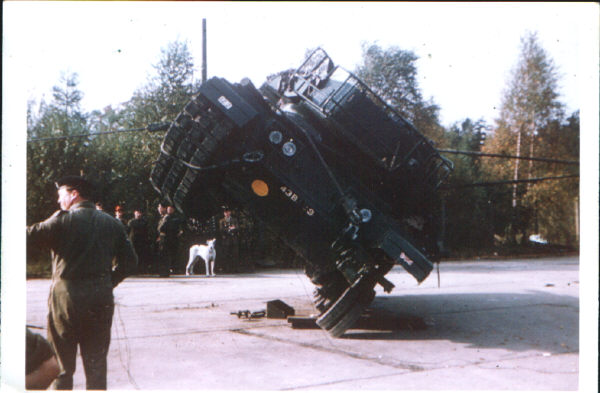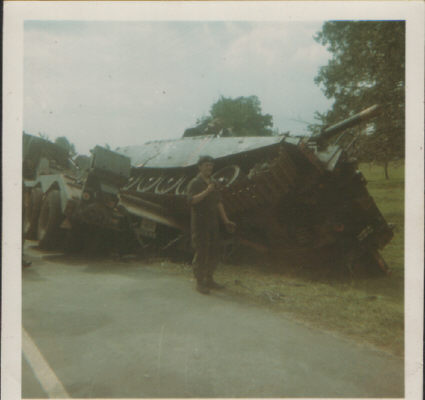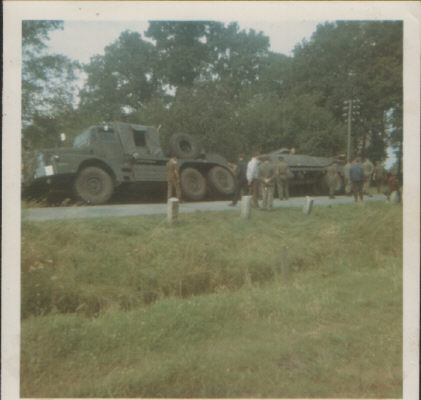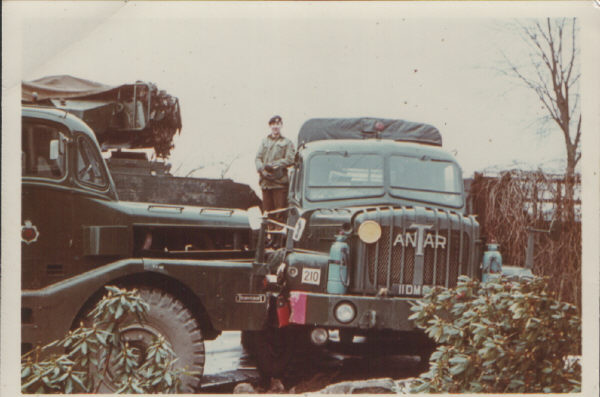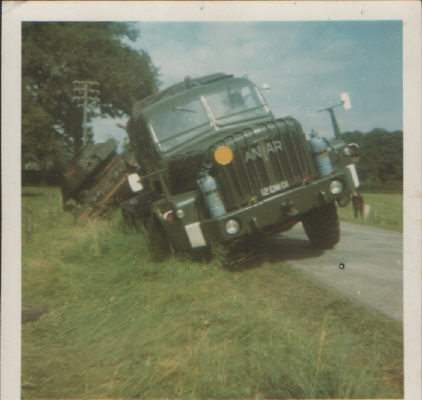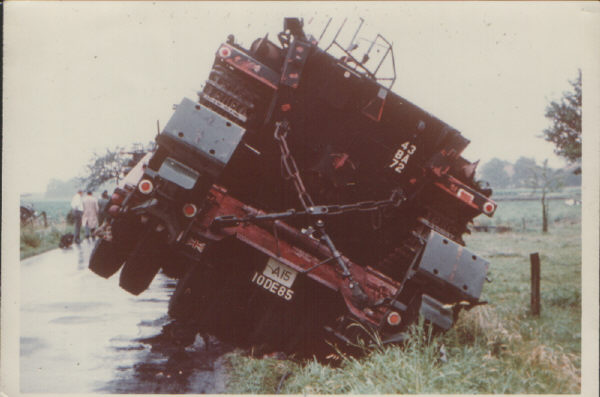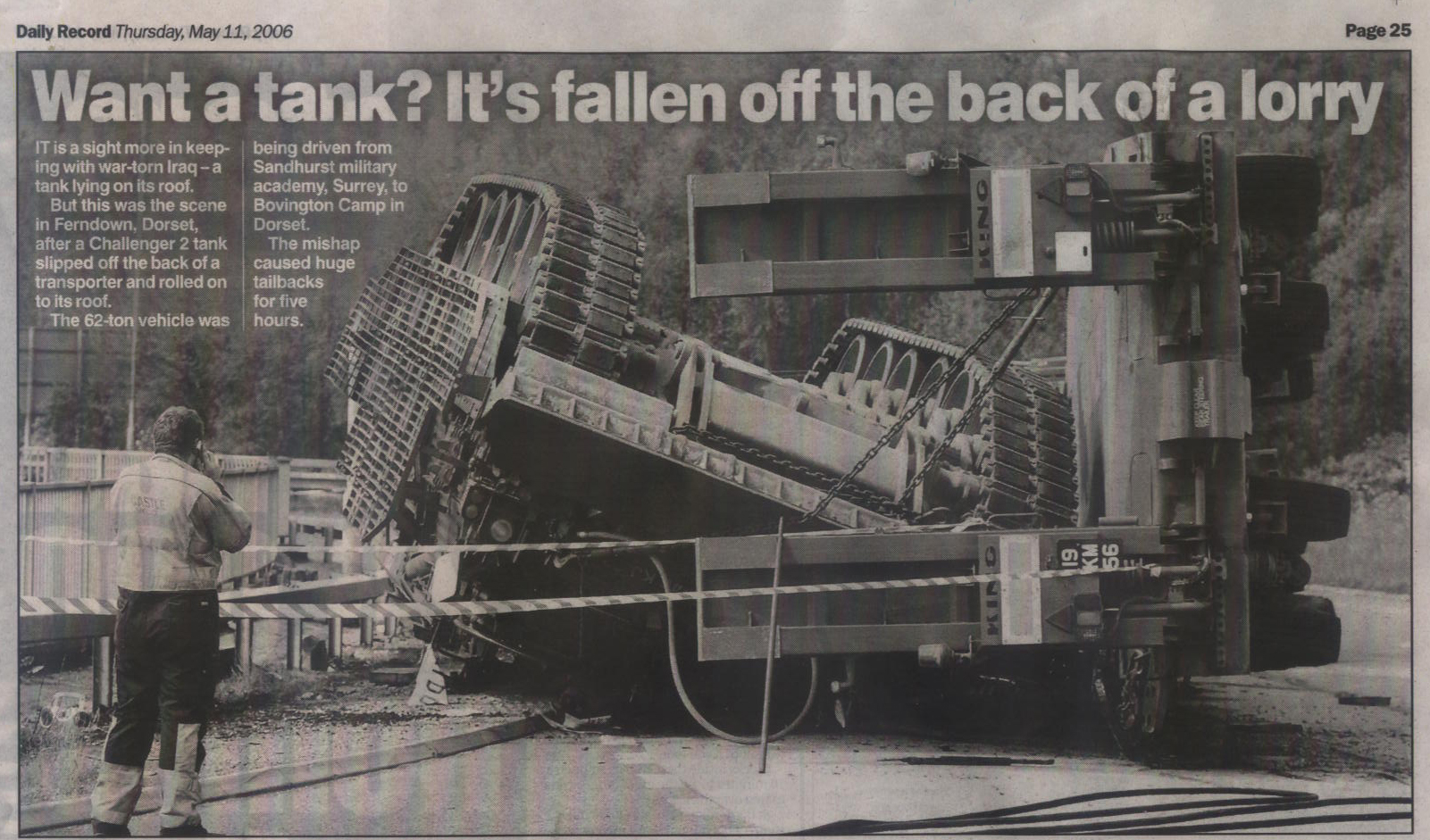 Heres another oop's it went wrong: Sent in by Peter Van Wijk,it shows what a DAF thing to do.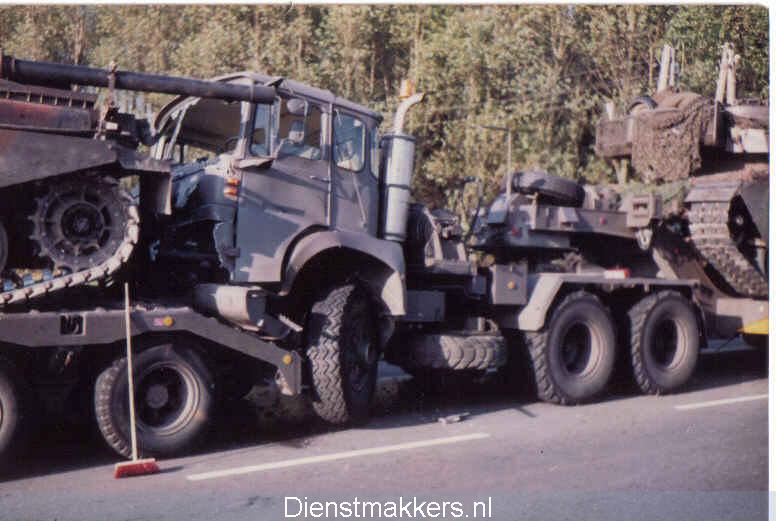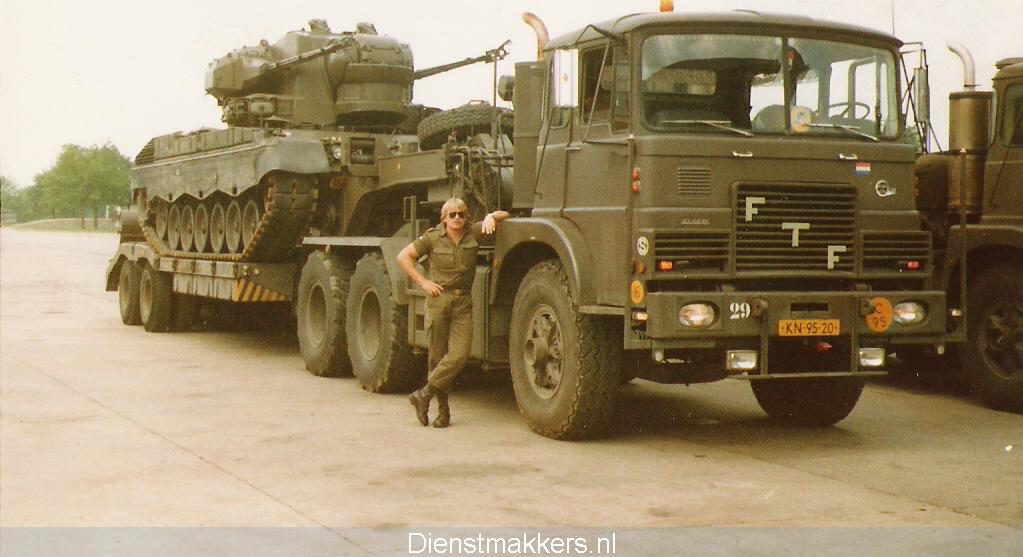 Ever Wondered what a Castlemartin Drag was? Here are some pics starting at the camp exit, through to Pembroke Dock, Load from a Landing ship logistics (LSL), then return to camp.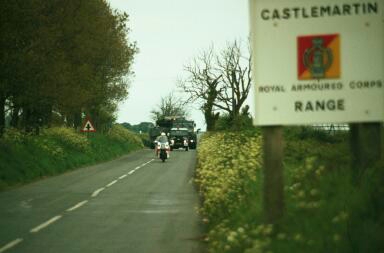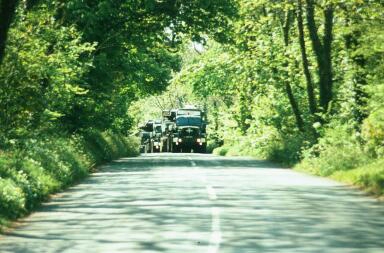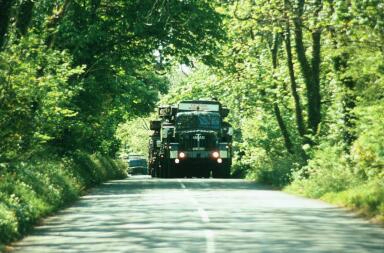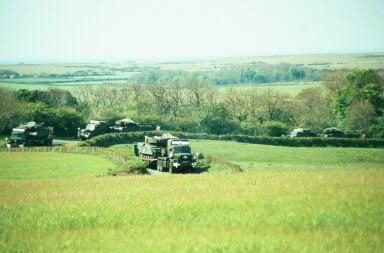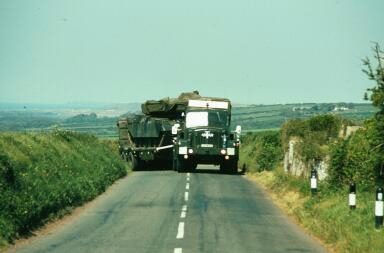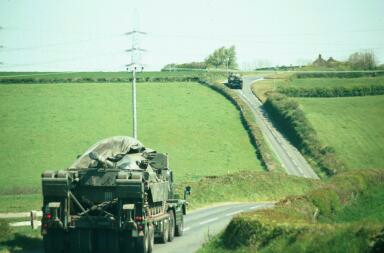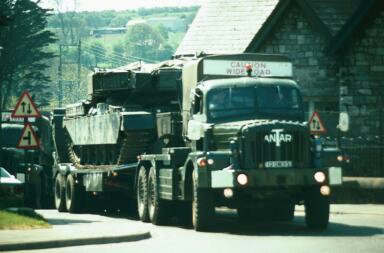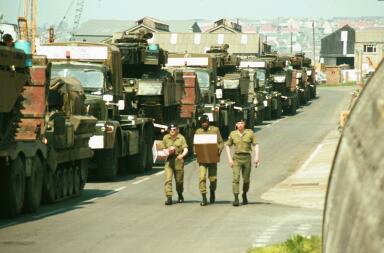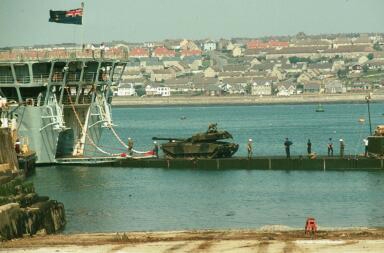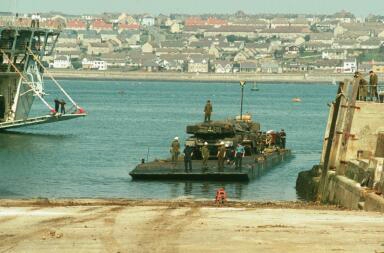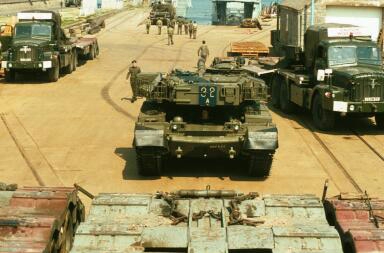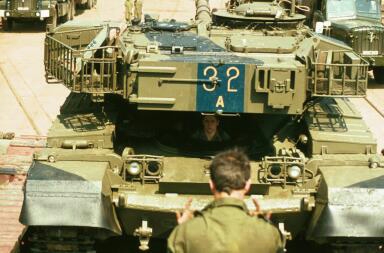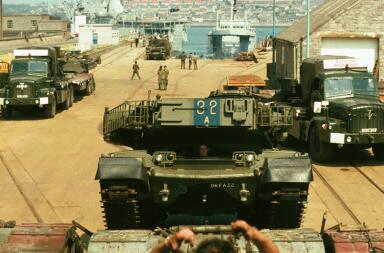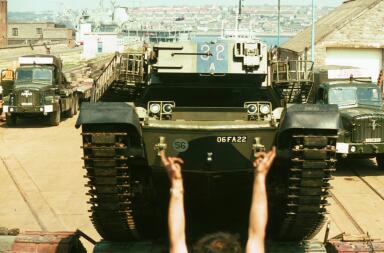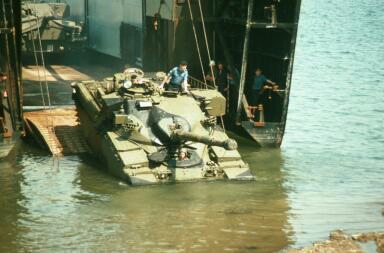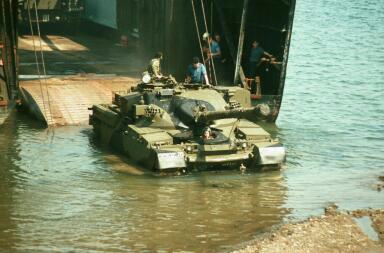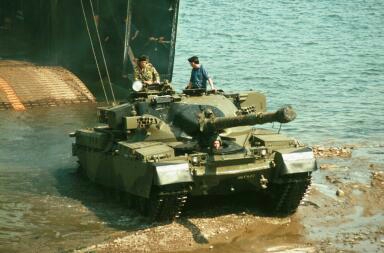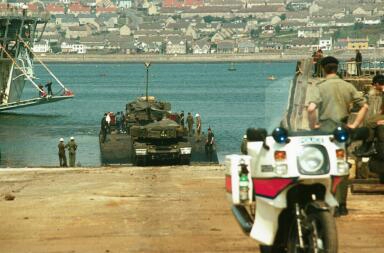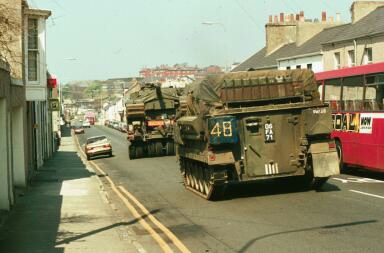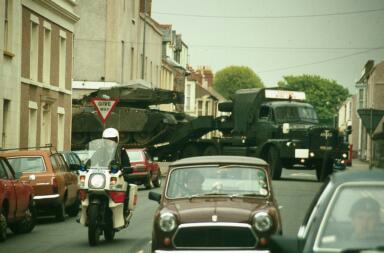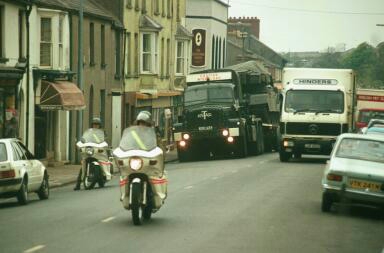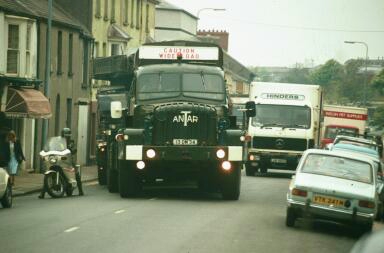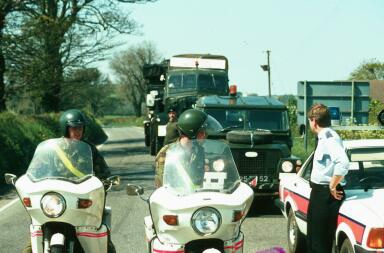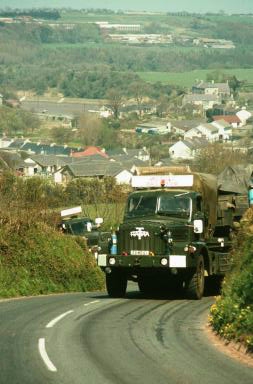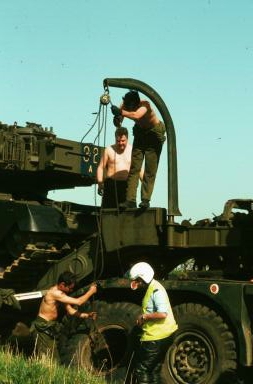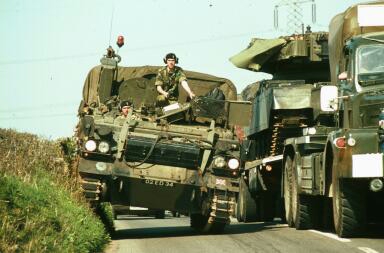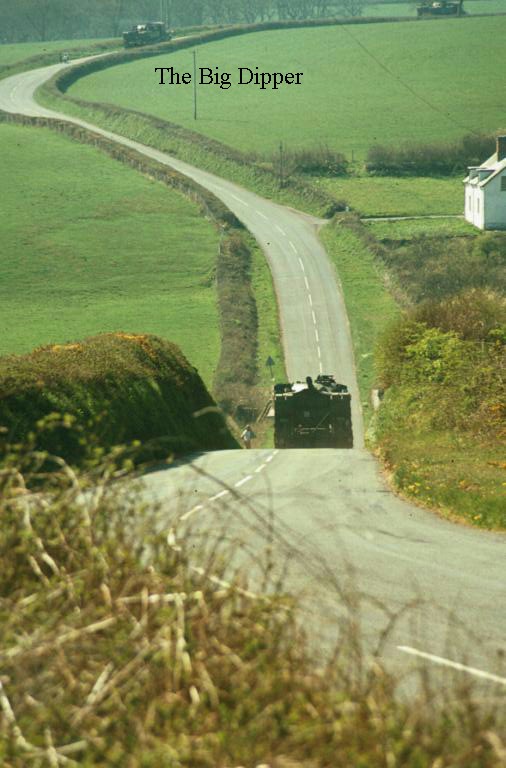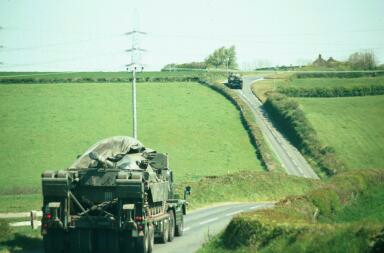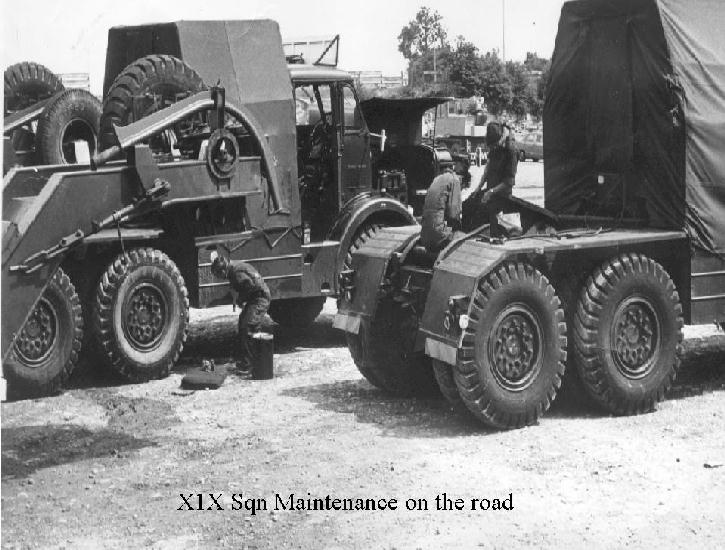 Above and below Antar Mk2's Engine Rover Meteorite 204 V8 petrol, producing 285bhp at 2000rpm, max speed 30mph ( original designed to operate at 12mph ). Fuel consumption 1.25mpg a Mk3a is on the Lhs of picture.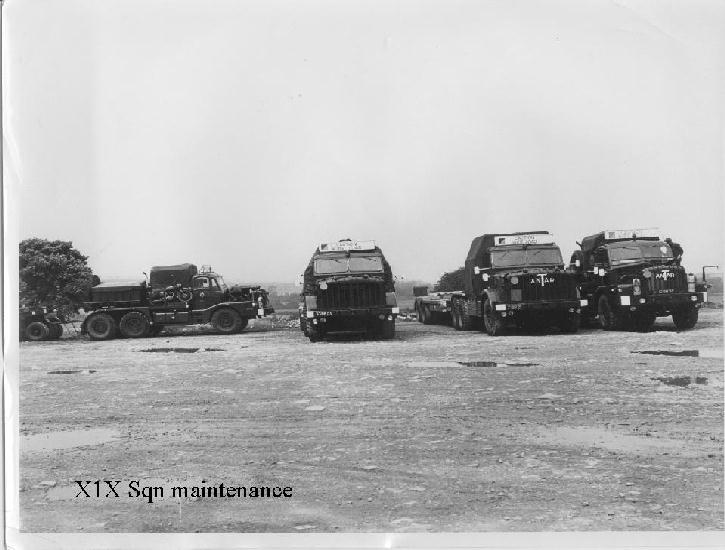 Here are some photos of Mk2b Antars with Dyson trailers operating in BATUS Canada in 1974, the loads are Chieftain MBT's Crews were Fritz Langholz & Clive How, Dougie Trail & John Barrett Marshall Greer & Ray Green, crews were formed from the available personnel for each task. These are followed by some black & white photos taken in Germany showing a variety of escort vehicles and Mk2 Antars and a Diamond T, photos by Stammers.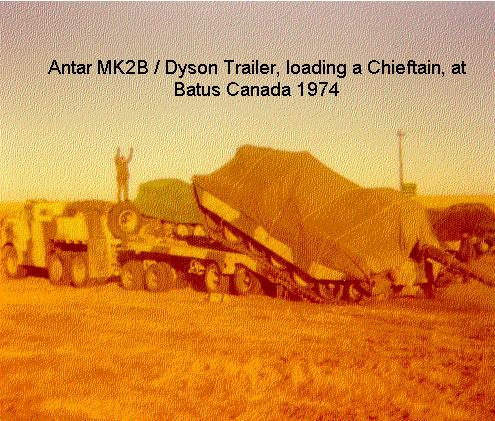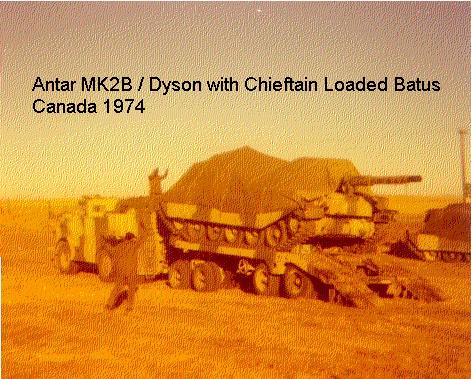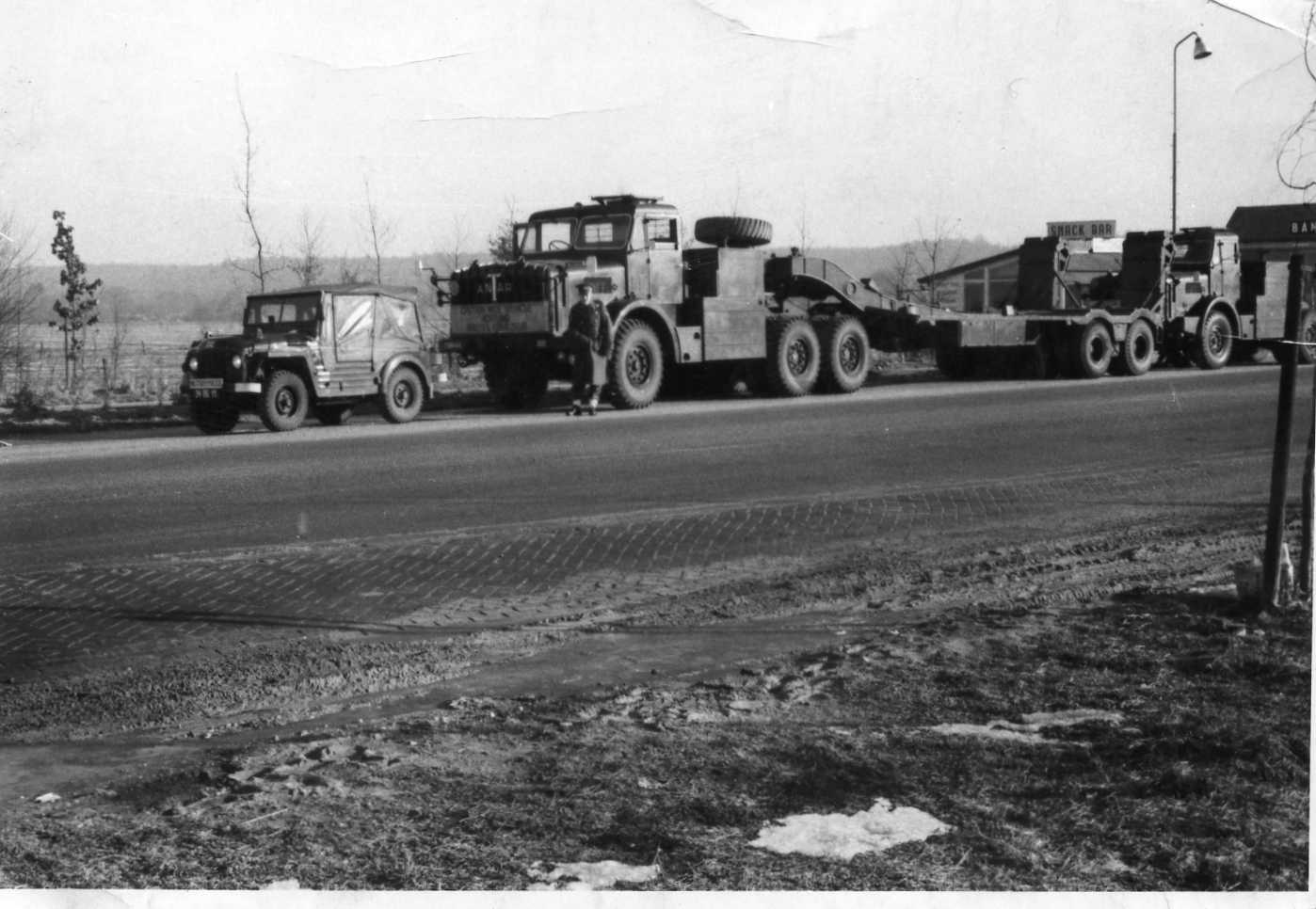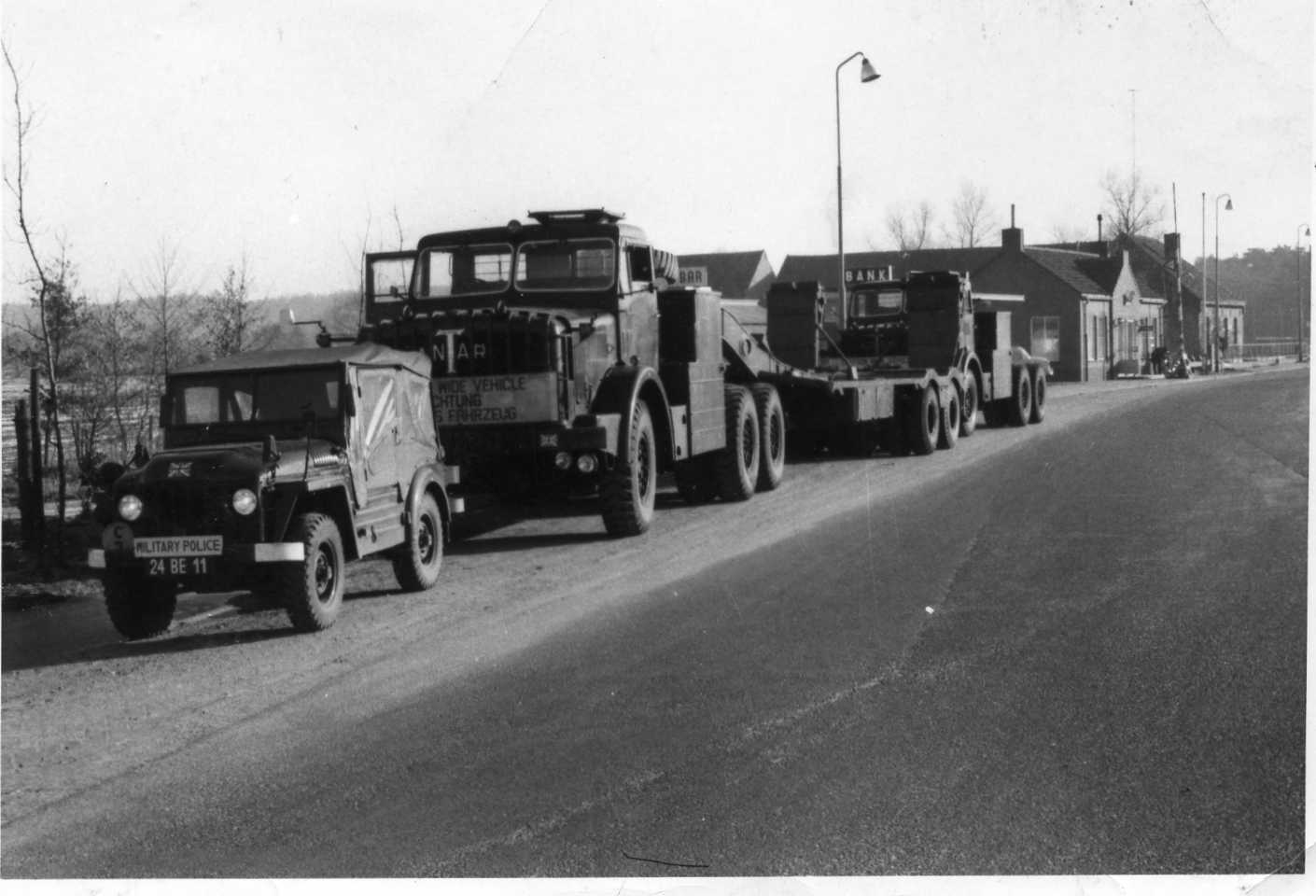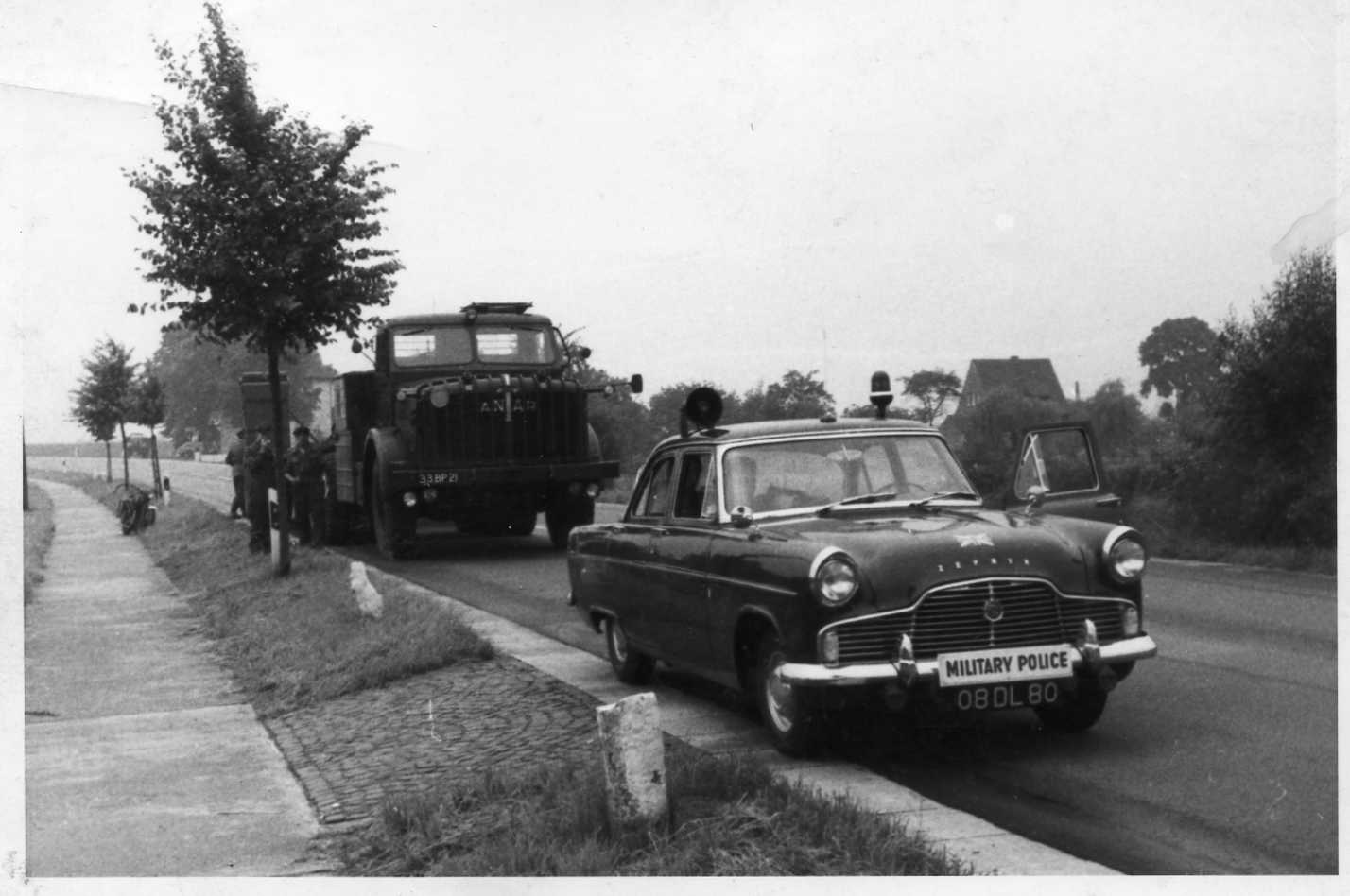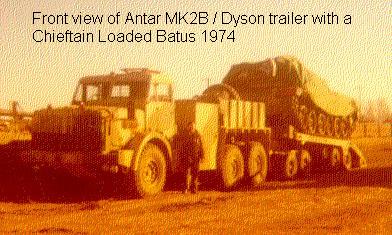 Below are some images of Mk3 Antars in BATUS Canada in winter 1977 sent in by Ray Green.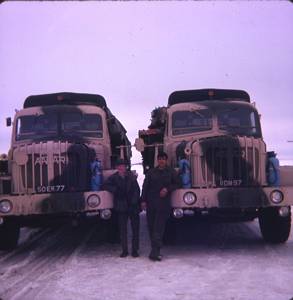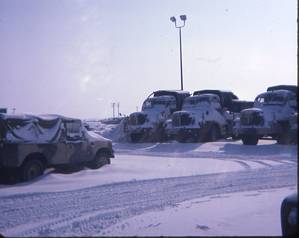 Shown here and below are some images of Antars MK3 and 3A.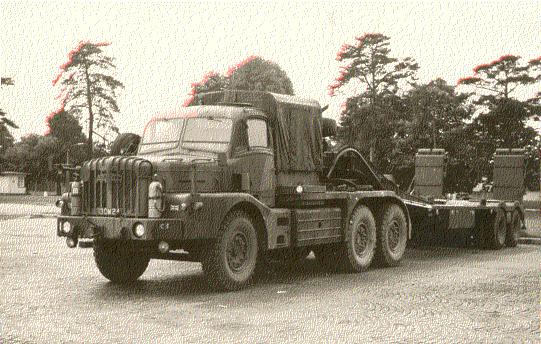 Right a MK3A Antar (Ballast Body).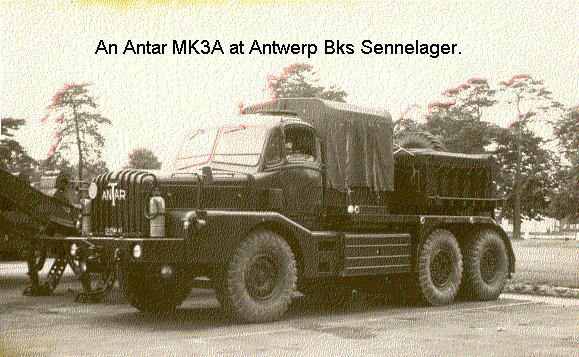 Some views of the Harbour wagon and some personnel at Hannover Garbsen Rastatte.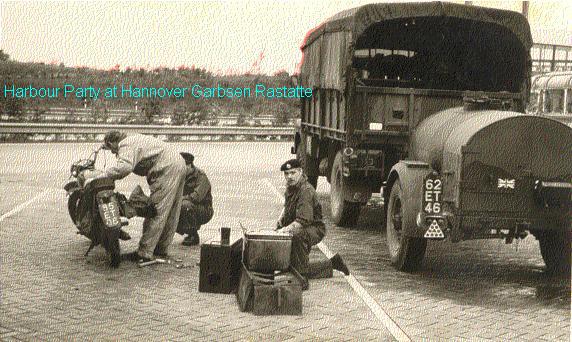 Johnny Barret, Johnny Dauscha, Tom Evans attending to BSA B40 Motorcycle.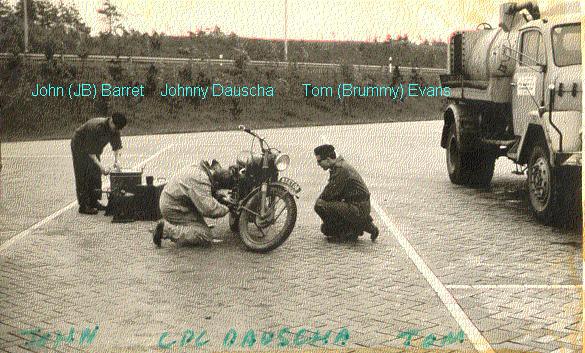 A Mk3 Antar VRN 50 EK 34 Named Arrabella (My old workhorse in Atp 3Tk Tptr Sqn RCT in the 70's).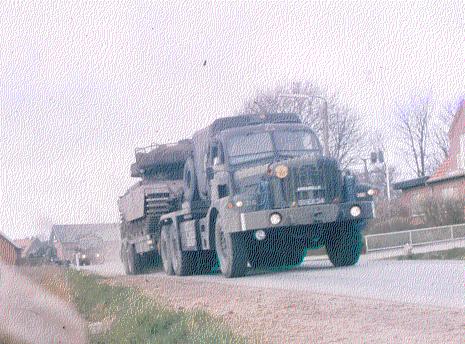 A view of a helicopter landing on the Main square at Antwerp Barracks Sennelager.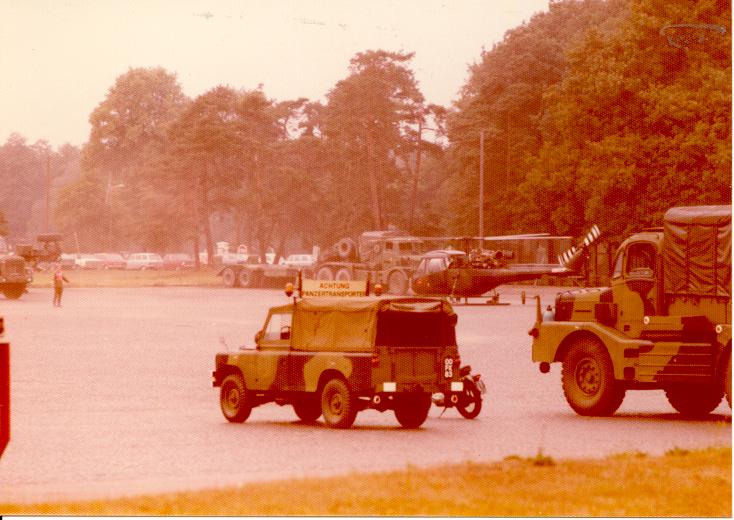 Here is a Photo of Avril [Atp 3 Sqn] Steve Willingham the No1 and Spangles White the No2, at A Jhq Rheindahlen Logistics Demo in the 70's.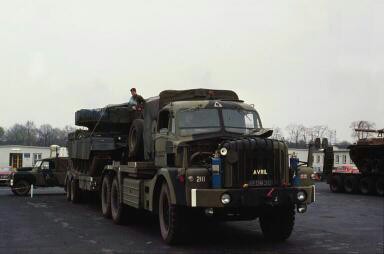 Motorcycle Escorts on BSA B40 350cc Single Cylinder Motorcycles. Left to Right: Marshall Greer, George Dadge, Dick Taylor, Charlie Farmer.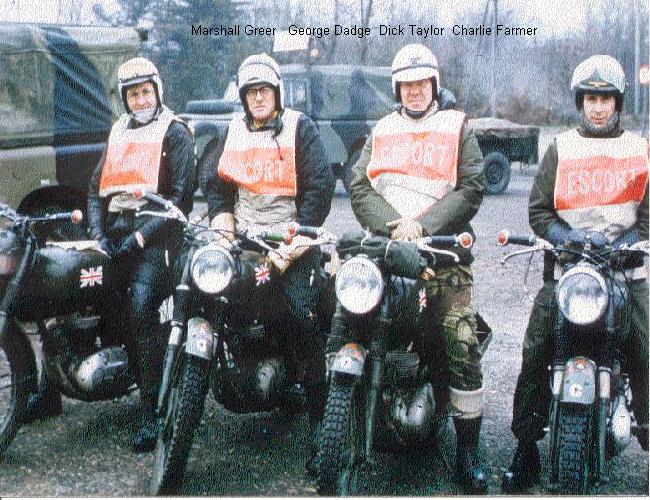 Following the collapse of the BSA motorcycle company, the Army trialled the Rickman motorcycle, which used a triumph 750cc twin cylinder engine, in their own built frames. After BAOR user trials, they were ridden back to Uk by Pete Shields and Me, going Sennelager to Antwerp then LSL to Marchwood, and on to the Rickman factory at New Milton. In the photo are Pete Shields, Pete Devlin and Me.
Marshall S Greer.